About Our Company
In the year 2011, we, Shree Radhe Hygiene Products Private Limited started our company with the vision to acquire a good stance in both the national and international markets. Under the guidance of our mentor, Mr. Jitender Goel, our team started supplying A-quality items like Baby Diaper, Large Adults Underpad, Disposable Cleaning Device, Ladies Hair Removal Cream, etc. These items are highly admired and preferred owing to their matchless quality. All over the world, we are famous as a profound manufacturer and exporter today. All our customers are highly satisfied by the rate plan made for their convenience. Each time they contact us, we cater to their needs with utmost perfection. Our company also gives guarantee of quick and safe shipment of orders. To ensure strong relations with all the clients, we operate our business with ethics as well as honesty. Each business policy is discussed with our clients to avoid confusions. Plus, bulk orders placed by them for the product range are always fulfilled by us within the promised time frame.
Infrastructure and Team
We have established a well-furnished infrastructure smartly segmented into different units like manufacturing, quality control, packaging and warehousing. Equipped with modern technology, our infrastructural facilities allow us to complete heavy orders that we get on a daily basis. Each department is supervised by experts who are highly knowledgeable as well as experienced. The greatest responsibility of our personnel is to make sure that the functioning of the trade with markets is never disturbed. Because of their diligence, we have been able to acquire a leading position in this industry and win the hearts of customers.
Why Us?
We offer highest quality range of items such as Baby Diaper, Disposable Cleaning Device, Large Adults Underpad, etc.
Our company has a huge supply chain which enables us to serve customers situated in various territories across the world
Customers associated with us are provided with personable customer support
Quality Assurance
Quality is the very first commitment we make to all our customers and our team never compromises on that. Owing to our incomparable standards, we have earned the number one position of this domain. All our items are completely flawless and each product is checked before the delivery. We have a separate space where the entire assortment is sent after the manufacturing process. Offerings are checked on different parameters as per their usage. Only after the approval of experts, they are packed and delivered to clients.
Our Strengths
Since commencement, we have been proving our capabilities as the number one manufacturer and exporter of items like Disposable Cleaning Device, New Born Baby Diaper, etc. Listed below are some of the strengths of our company:
Great business ethics

International quality standards
Smart infrastructural facility
Efficient logistics facilities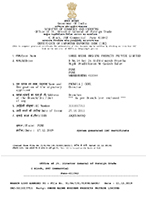 Read More